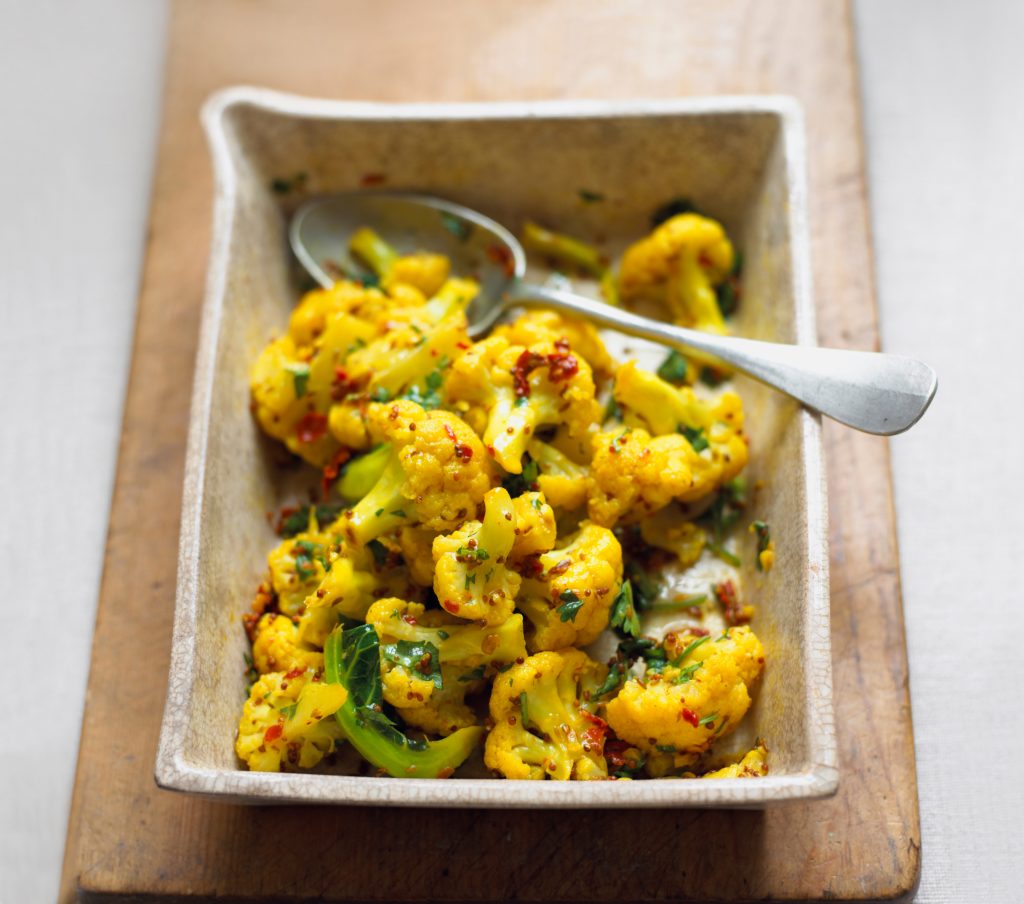 A few spices can turn the humble cauliflower into something far more interesting. This dish can be served simply with some buttery basmati rice or as part of an Indian meal.
SERVES 4
PREP TIME 10 MINS
COOK TIME 15 MINS

Mortar and Pestle
Wok or Large, Deep Frying Pan With Lid

14 oz (400g) cauliflower, outer leaves removed, chopped into small florets
2 dried red chillies
1 tsp cumin seeds
2 tbsp sunflower oil
1 tsp black mustard seeds
1/2 tsp turmeric
2 garlic cloves, crushed
1 knob butter
Sea salt
2 tbsp coriander leaves, finely chopped

1.  Blanch the cauliflower in salted boiling water for 1–2 minutes, drain, and rinse under cold water.
2.  Grind together the chillies and cumin seeds in a mortar and pestle until roughly crushed. Heat the oil in a large, deep frying pan or wok, and add the chilli and cumin seeds, mustard seeds, turmeric, and garlic. Cook gently for 1 minute until the mustard seeds start to pop.
3.  Add the cauliflower and enough water so that it covers the bottom of the pan (about 6 tablespoons). Bring the water to the boil and cover the pan or wok. Turn the heat down and simmer the cauliflower for 3–5 minutes, until almost cooked through.
4.  Uncover the pan or wok and turn up the heat. Allow the water to cook off, turning the cauliflower all the time. When all the water has evaporated (about 5–6 minutes), add the butter and mix well until it melts. Season with sea salt and sprinkle with coriander before serving.

| | |
| --- | --- |
| Fat:  47.87 g | Fiber: 10.13 g |
| Iron: 4.75 mg | Sugar: 12.66 g |
| Calcium: 143.72 mg | Sodium: 1057.87 mg |
| Potassium: 1590.03 mg | Calories: 564.36 kcal |
| Protein: 10.86 g | Vitamin A: 1463.4 IU |
| Vitamin C: 323.3 g | Carbohydrates: 21.76 g |
| Saturated Fat: 13.95 g | Cholesterol: 45.15 mg |