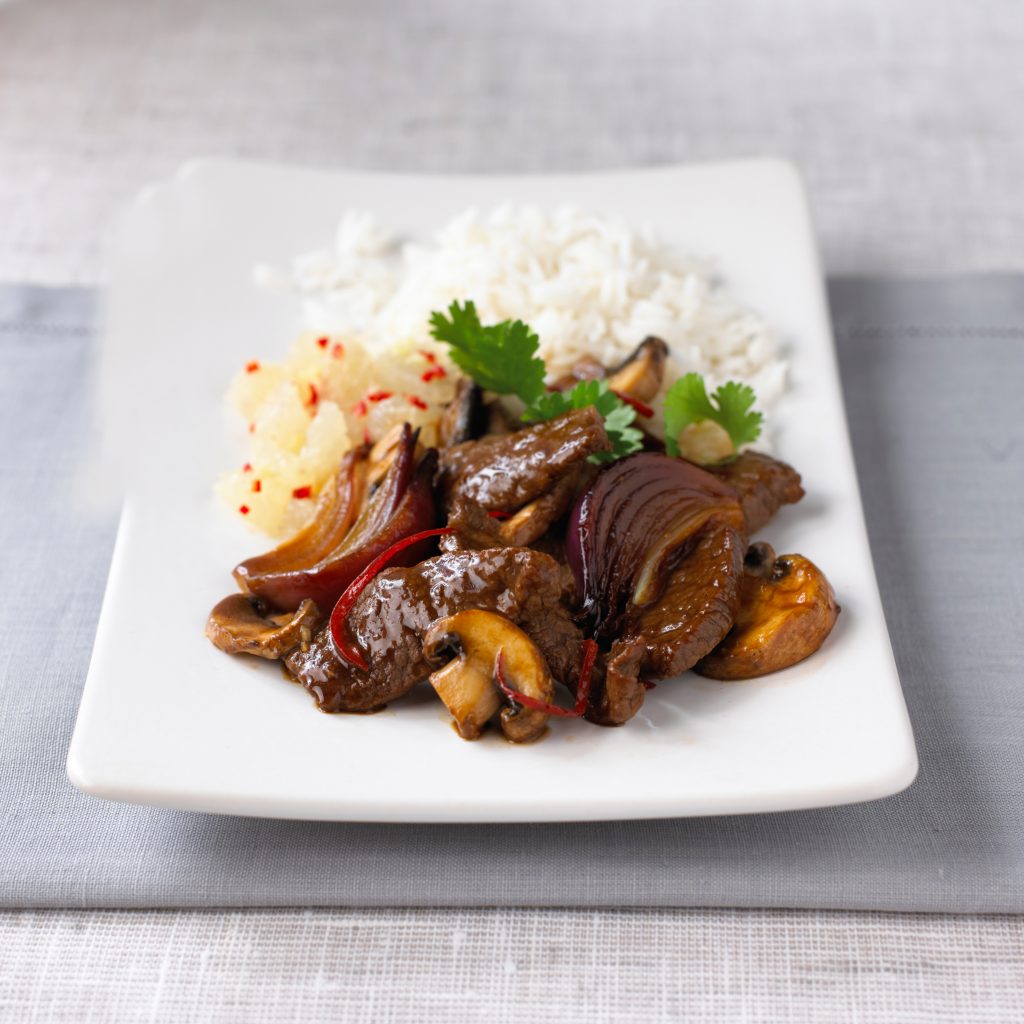 Soy sauce has up to ten times the level of antioxidants found in red wine, chillies have comparatively more vitamin C than citrus fruits, and rump steak is a lean cut of beef. Enjoy!
SERVES 4
PREP TIME 10 MINS
COOK TIME 15 MINS

Wok or a Large, Deep Frying Pan

1 tbsp groundnut or sunflower oil
1 red onion, cut into 8 wedges
675 g rump steak, cut into strips
1 medium fresh medium-hot red chilli, deseeded and finely sliced into strips
1 tablespoon dark soy sauce
Juice of 1 lime
1 tbsp clear honey
7 oz (200g chestnut mushrooms, cleaned and sliced
1 handful fresh coriander
Rice or noodles, to serve
2 grapefruits, segented and chopped
5cm piece of fresh root ginger, grated
1 medium fresh medium-hot red chilli, deseeded and finely chopped
Pinch of sugar
Freshly ground black pepper

1.  First, make the salsa. Put all the ingredients in a bowl, stir, and taste. Add a little black pepper, if you wish. Set aside.
2.  Heat the oil in a wok over a high heat until hot. Add the onion, and stir-fry for about 5 minutes until soft, before adding the beef strips and chilli. Continue to stir-fry for another 5 minutes or so, keeping everything moving in the wok. Add the soy, lime juice, and honey, and keep stir-frying.
3.  Throw in the mushrooms, and stir-fry for a few minutes until they are soft and begin to release their juices.
4.  To serve, pile the coriander on top of the beef, and serve immediately with rice or noodles, and the grapefruit salsa.

| | |
| --- | --- |
| Fat:  50.17 g | Fiber: 20.47 g |
| Iron: 16.96 mg | Sugar: 72.43 g |
| Calcium: 436.28 mg | Sodium: 1433.18 mg |
| Potassium: 5001.78 mg | Calories: 2299.01 kcal |
| Protein: 191.31 g | Vitamin A: 7031.92 IU |
| Vitamin C: 308.09 g | Carbohydrates: 251.57 g |
| Saturated Fat: 13.8 g | Cholesterol: 411.75 mg |