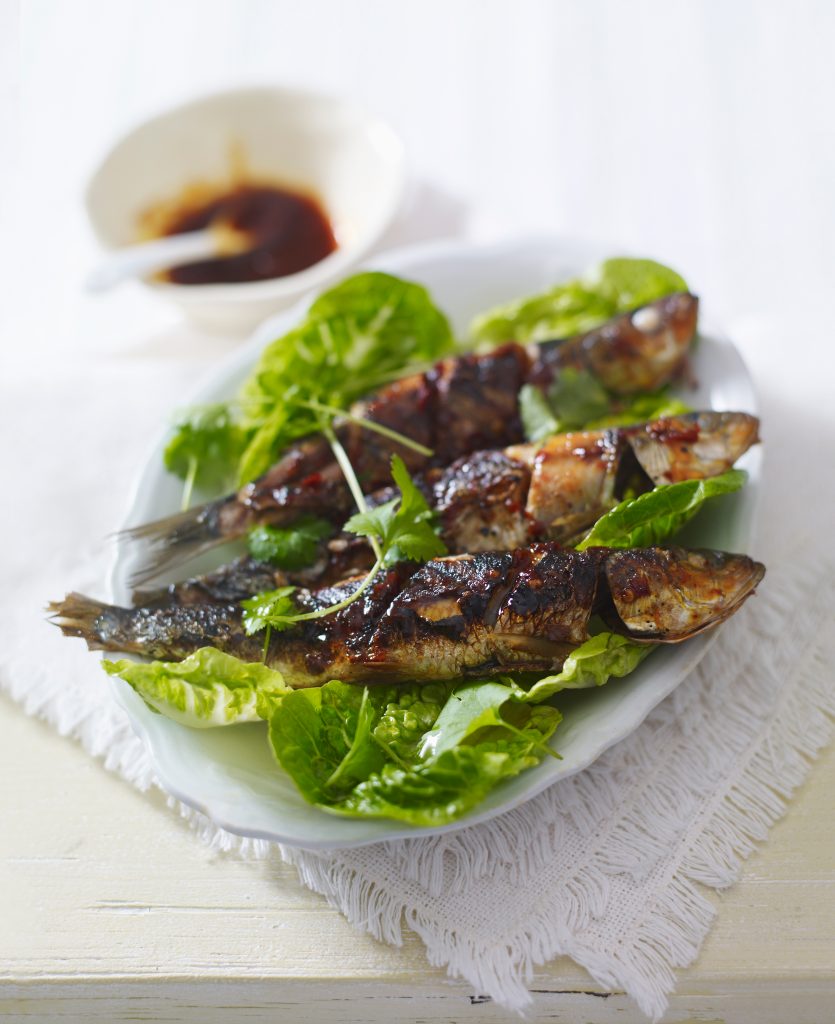 Very fresh sardines have a sweet and delicate flavour. And they're a rich source of calcium and potassium.
SERVES 4
PREP TIME 25 MINS
COOK TIME 2 MINS

Barbecue
Brush
Bowl
Whisk

12–16 sardines, scaled, gutted, and trimmed
1–2 tbsp olive oil
Salt and freshly ground black pepper
1 tsp ground coriander
2 tbsp extra virgin olive oil
2 tbsp harissa paste
2 tsp runny honey, to taste
Grated zest and juice of 1 lime
1 large handful coriander leaves
2 Little Gem lettuces, finely sliced
Grated zest and juice of 1 lemon
Pinch of sugar
3 tbsp extra virgin olive oil

1.  Preheat a barbecue until the coals are glowing and grey in appearance.
2.  Cut three slashes in either side of each sardine. Brush with olive oil and season generously with salt, pepper, and ground coriander. Set aside.
3.  To make the dressing, whisk together the oil, harissa, honey, and lime zest and juice, then season, and add more honey if necessary to balance the acidity of the lime. Set aside.
4.  Prepare the salad: toss the coriander with the lettuce and pile into a large, flat serving dish. Whisk together the lemon zest, juice, sugar, and olive oil. Season and drizzle over the salad.
5.  Cook the sardines on the barbecue (or under a preheated grill) for 2–3 minutes or until the flesh is white and opaque. Brush with the harissa paste and barbecue the other side for a further 30 seconds. Pile onto the coriander salad and serve at once.

| | |
| --- | --- |
| Fat:  105.34 g | Fiber: 30.73 g |
| Iron: 13.96 mg | Sugar: 68.75 g |
| Calcium: 945.87 mg | Sodium: 1956.56 mg |
| Potassium: 6855.69 mg | Calories: 1527.37 kcal |
| Protein: 65.29 g | Vitamin A: 5200.2 IU |
| Vitamin C: 457.79 g | Carbohydrates: 77.39 g |
| Saturated Fat: 14.87 g | Cholesterol: 204.48 mg |