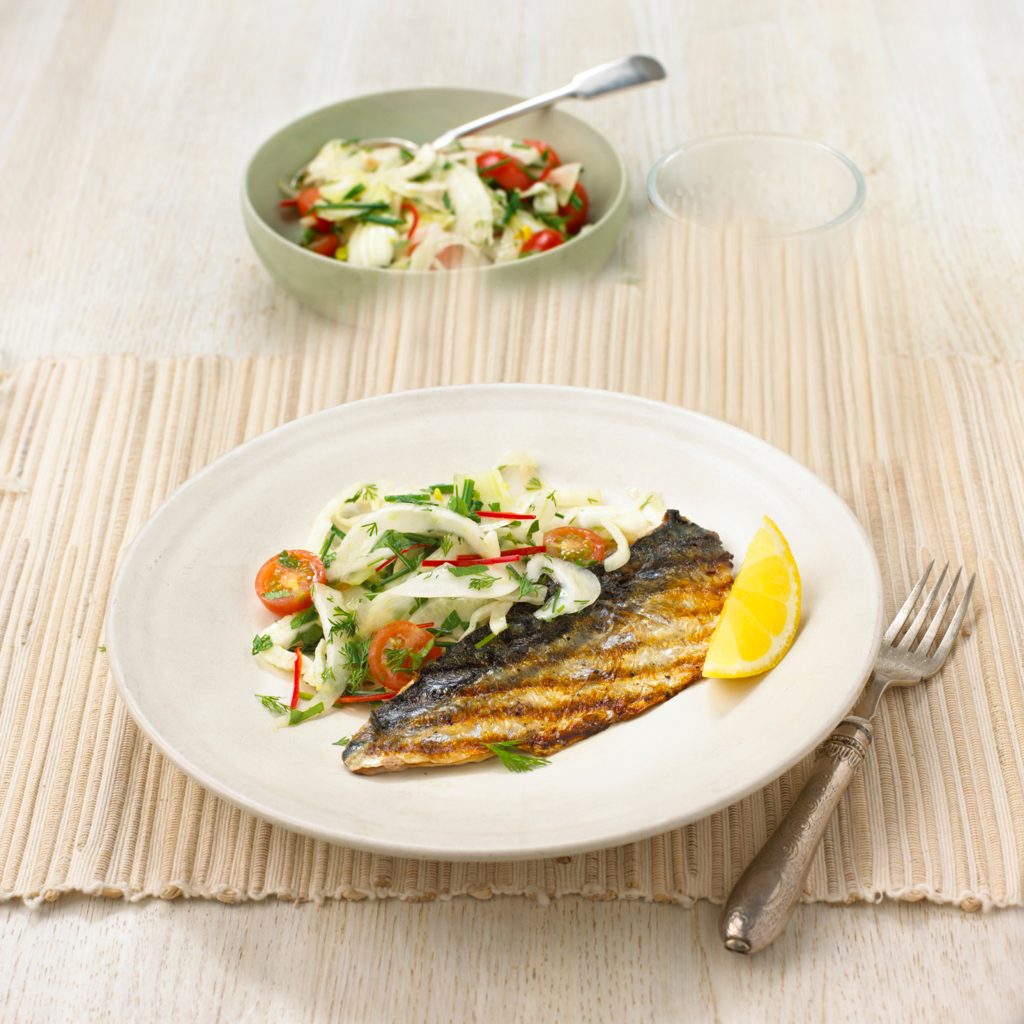 The strong flavours of mackerel are complemented well by this robust marinade and the bright, zingy salad.
SERVES 4
PREP TIME 20 MINS
COOK TIME 6 MINS

Barbecue
Shallow Bowl
Brush

1 hot red chilli, deseeded and finely chopped
1 tbsp capers, rinsed, dried, and chopped
2 tbsp olive oil, plus extra for brushing
Juice of 1 lemon, plus extra lemon wedges to serve
4 large skin-on mackerel fillets
Salt and freshly ground black pepper
1 bulb fennel, thinly sliced
9 oz (250g) cherry tomatoes, halved
2 red chillies, deseeded and thinly sliced lengthways
1/2 bunch chives, snipped into 2.5cm lengths
1 large handful flat-leaf parsley, chopped
4 sprigs dill, chopped
2 tbsp olive oil
Juice of 1/2  a lemon
1 garlic clove, crushed

1.  Mix together the chilli, capers, olive oil, and lemon juice in a shallow bowl. Add the mackerel fillets, and season well on both sides. Rub the mixture over the fish, cover, and marinate in the fridge for 1 hour.
2.  Prepare a barbecue for cooking, and brush the bars with oil. Cook the fish, skin-side down, for 2–3 minutes, or until the skin is golden brown. Turn it gently, brush with the marinade, and cook for a further 2–3 minutes. Remove from the heat and divide between four serving plates.
3.  Put the salad ingredients in a bowl, toss gently, then serve with the fish, with lemon wedges for squeezing.

| | |
| --- | --- |
| Fat:  199.87 g | Fiber: 12.06 g |
| Iron: 26.68 mg | Sugar: 17.42 g |
| Calcium: 603.56 mg | Sodium: 2729.11 mg |
| Potassium: 9472.35 mg | Calories: 3553.34 kcal |
| Protein: 370.24 g | Vitamin A: 4469.32 IU |
| Vitamin C: 382.76 g | Carbohydrates: 39.33 g |
| Saturated Fat: 48.38 g | Cholesterol: 846 mg |