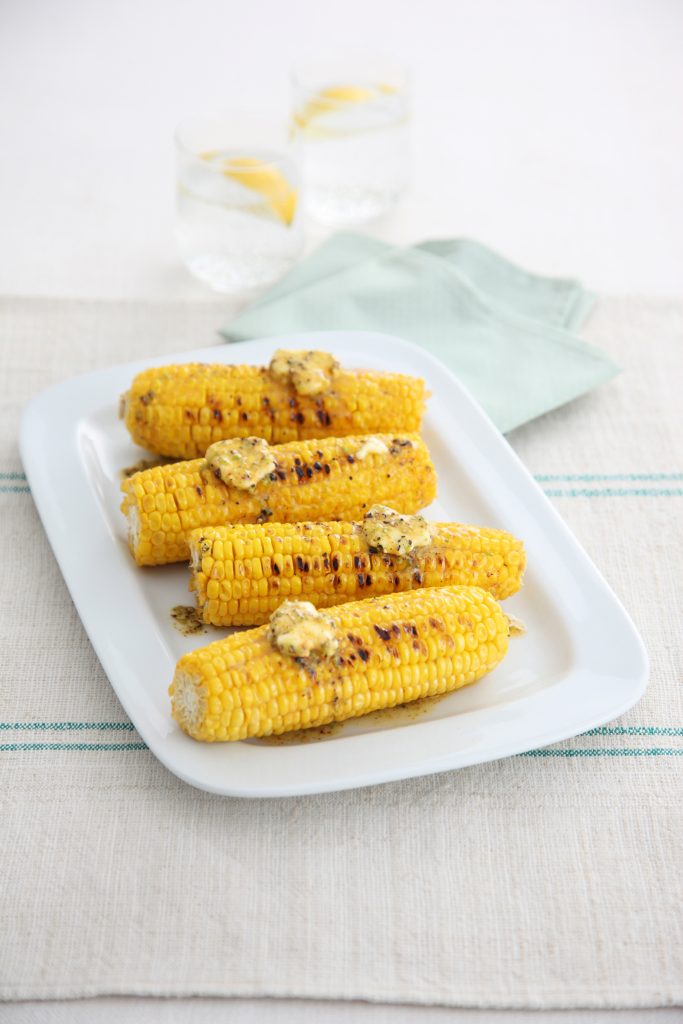 This butter can also flavour grilled meat or fish. It freezes well for up to six months.
SERVES 4
PREP TIME 10 MINS
COOK TIME 10 MINS

Barbecue
Small Bowl
Greaseproof paper
Knife
Large Pan

1.5 oz (40g) unsalted butter, softened
Finely grated zest of 1 lime
1/2 tsp chilli powder or cayenne pepper
1/2 tsp sea salt
Freshly ground black pepper
4 sweetcorn cobs
A little olive oil

1.  Prepare a barbecue for cooking. In a small bowl, mash the butter with the lime zest, chilli powder, sea salt, and black pepper.
2.  Cut a square of greaseproof paper, about 15cm (6in) square. Put the butter in the middle of one edge of the paper and shape it like a sausage. Roll the butter sausage up in the paper, then twist the ends like a Christmas cracker so the butter forms a tight shape. Leave in the freezer for at least 30 minutes before use (or freeze until needed).
3.  Cook the sweetcorn cobs in a large pan of boiling water for up to 5 minutes until the corn is tender (this will depend on the size and age of the cobs). Drain well, rub them in a little oil, and grill for 6 minutes over a hot barbecue, turning them frequently, until they are lightly charred on all sides.
4.  Serve the sweetcorn with a 1cm- ( 1/2 in-) thick disk of the chilled butter on top to melt.

| | |
| --- | --- |
| Fat:  95.65 g | Fiber: 9.42 g |
| Iron: 2.71 mg | Sugar: 23.79 g |
| Calcium: 43.9 mg | Sodium: 1224.23 mg |
| Potassium: 1074.8 mg | Calories: 1133.5 kcal |
| Protein: 12.75 g | Vitamin A: 2146.05 IU |
| Vitamin C: 44.67 g | Carbohydrates: 65.75 g |
| Saturated Fat: 30.79 g | Cholesterol: 91.43 mg |