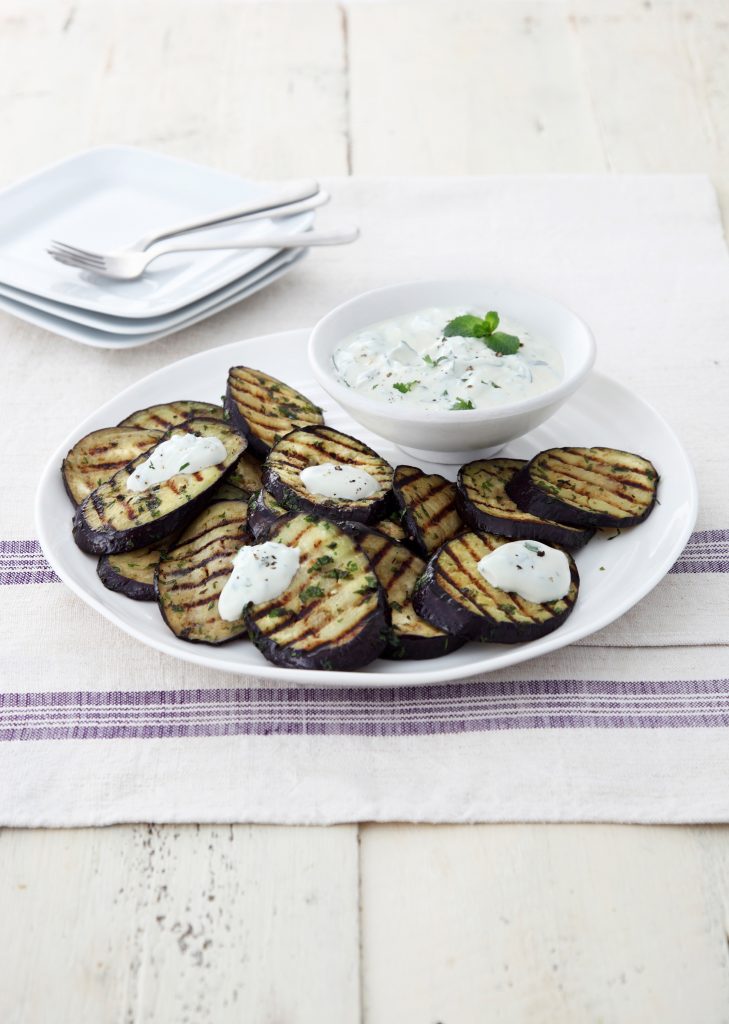 These Middle Eastern-inspired aubergine slices are a good vegetarian option at a barbecue.
SERVES 3
PREP TIME 10 MINS
COOK TIME 15 MINS

Barbecue
Brush
Mixing Bowl
Spoon

4 tbsp olive oil
1 tbsp chopped coriander leaves
1/2 tsp ground cumin
2 garlic cloves, crushed
3 tbsp chopped mint leaves
Salt and freshly ground black pepper
2 large aubergines, cut into 2cm slices
5.5 oz (150g) Greek yogurt

1.  Prepare a barbecue for cooking. In a small bowl, mix together the oil, coriander, cumin, one of the crushed garlic cloves, and 1 tablespoon of the mint, and season well.
2.  Brush the slices of aubergine with the herby oil and grill them over a hot barbecue for 3–5 minutes on each side until soft and charred in places.
3.  Meanwhile, make the sauce by mixing together the Greek yogurt, remaining crushed garlic clove, and remaining 2 tablespoons of mint. Season well and serve in a bowl alongside the aubergine slices.

| | |
| --- | --- |
| Fat:  58.89 g | Fiber: 28.26 g |
| Iron: 4.52 mg | Sugar: 37.5 g |
| Calcium: 300.6 mg | Sodium: 663.77 mg |
| Potassium: 2415.68 mg | Calories: 837.66 kcal |
| Protein: 25.88 g | Vitamin A: 479.64 IU |
| Vitamin C: 23.85 g | Carbohydrates: 35.01 g |
| Saturated Fat: 8.28 g | Cholesterol: 7.8 mg |