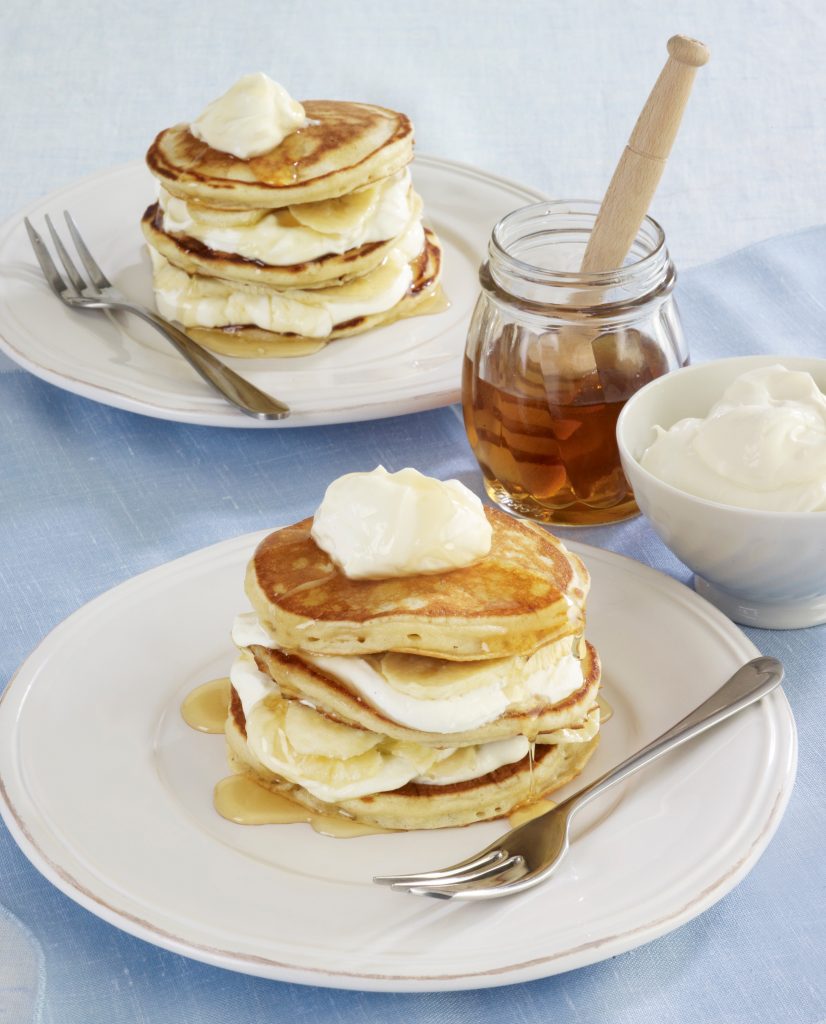 Try stacking pancakes for a luxurious breakfast treat. Younger children especially love their sweet fluffiness.
SERVES 6
PREP TIME 10 MINS
COOK TIME 15 MINS

Large Bowl
Whisk
Large Non-Stick Frying Pan

7 oz (200g) self-raising flour, sifted
1 tsp baking powder
1.25 oz (40g) caster sugar
8 fl. oz. (250ml) whole milk
2 large eggs, lightly beaten
1/2 tsp vanilla extract
30 g unsalted butter, melted and cooled, plus extra for frying
2–3 bananas
7 oz (200g) Greek yogurt
Runny honey, to serve

1. Sift the flour and baking powder into a large bowl and add the sugar. In a jug, whisk together the milk, eggs, and vanilla extract. Make a well in the centre of the flour mixture and whisk in the milk mixture, a little at a time, bringing in the flour as you go. Finally, whisk in the cooled, melted butter until the mixture is smooth.
2. Melt a knob of butter in a large, non-stick frying pan. Pour tablespoons of the batter into the pan, leaving space between them for the batter to spread. Each pancake should become about 8–10cm (3 1/4 –4in) in diameter, but don't worry too much.
3. Cook over a medium heat, reducing the heat if they seem to be cooking too fast. Turn the pancakes when small bubbles appear on the surface and pop. Cook for another 1–2 minutes until golden brown and cooked through.
4. Slice the bananas on the diagonal to produce 5cm- (2in-) long strips. Place a warm pancake on a plate and top with a spoonful of yogurt and slices of banana. Top with another pancake, more yogurt, banana, and honey. Finish the stack with a third pancake, topped with a spoonful of yogurt and drizzled generously with honey.

| | |
| --- | --- |
| Fat: 46.37 g | Fiber: 10.99 g |
| Iron: 5.08 mg | Sugar: 118.38 g |
| Calcium: 863.77 mg | Sodium: 814.61 mg |
| Potassium: 1807.18 mg | Calories: 1819.22 kcal |
| Protein: 66.96 g | Vitamin A: 1835.88 IU |
| Vitamin C: 20.74 g | Carbohydrates: 277.65 g |
| Saturated Fat: 23.92 g | Cholesterol: 470.08 mg |