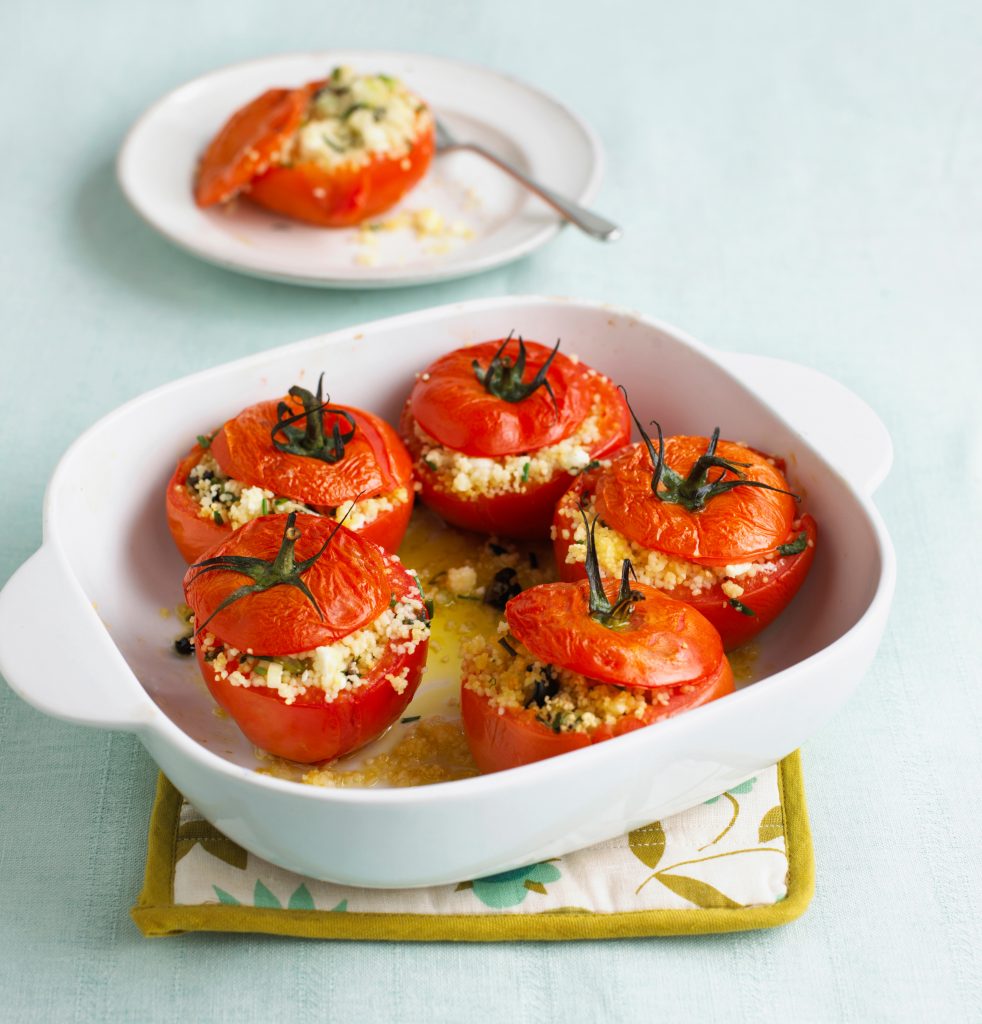 These can be the centrepiece of a meal or can accompany a simple grilled or baked fish dish.
SERVES 4
PREP TIME 20 MINS
COOK TIME 15 MINS
Wide Shallow Dish
Cling Film
Fork
Small Overproof Dish

4–8 beef or other large tomatoes, depending on size
3.5 oz (100g) couscous
2 tbsp olive oil, plus extra for drizzling
5 fl. oz. (150ml) boiling vegetable stock
2 large spring onions, finely chopped
8 pitted black olives, finely chopped
Finely grated zest of 1/2 a lemon
1.75 oz (50g) feta cheese, crumbled
2 tbsp finely chopped mint leaves
1 tbsp finely chopped chives
Freshly ground black pepper

1.  Preheat the oven to 200°C (400°F/Gas 6). Slice the tops from the tomatoes and carefully scoop out and discard the interior flesh, reserving the tops for later.
2.  Put the couscous in a wide, shallow dish and rub in 1 tablespoon of the oil with your fingers (to stop the grains sticking together). Pour over the stock, stir briefly, and immediately cover tightly with cling film. Leave for 10 minutes, then uncover. The couscous should be soft and the liquid absorbed. Fluff the couscous with a fork and leave to cool slightly.
3.  When the couscous has cooled, add the remaining ingredients, except the tomatoes, with the remaining 1 tablespoon of oil. Season well with pepper (the feta and olives are salty enough), and carefully stuff the tomatoes with the mixture.
4.  Place the tomatoes in a small ovenproof dish that fits them tightly, put the reserved tops on, and drizzle with oil. Bake in the hot oven for 15 minutes, until the tomatoes are soft but still hold their shape and the tops are golden. Rest for 5 minutes, then serve.

| | |
| --- | --- |
| Fat:  45.73 g | Fiber: 16.82 g |
| Iron: 4.69 mg | Sugar: 23.97 g |
| Calcium: 410.45 mg | Sodium: 1699.21 mg |
| Potassium: 2109.76 mg | Calories: 957.96 kcal |
| Protein: 27.68 g | Vitamin A: 7483 IU |
| Vitamin C: 115.77 g | Carbohydrates: 98.5 g |
| Saturated Fat: 12.3 g | Cholesterol: 44.15 mg |