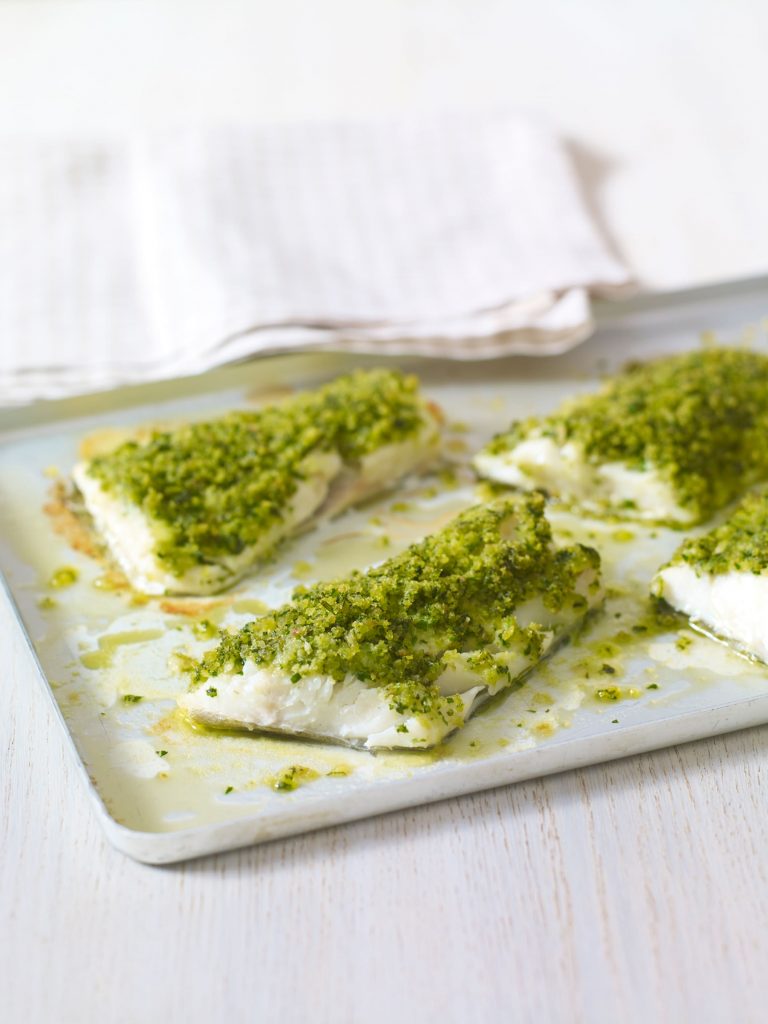 This easy recipe looks amazing, with its vivid green crust, and is pleasingly aromatic. White fish are also low in fat.
SERVES 4
PREP TIME 5 MINS
COOK TIME 10 MINS

Equipment:
Food processor

Recipe Ingredients:
1.75 oz (50 g) fresh breadcrumbs
2 tbsp roughly chopped basil leaves
2 tbsp roughly chopped flat-leaf parsley leaves
2 tbsp roughly chopped chives
Finely grated zest of 1/2 a lemon
Salt and freshly ground black pepper
4 tbsp olive oil, plus extra for brushing
4 fillet of firm-fleshed, white, sustainable fish, such as cod or haddock, about 150 g each
FOR A GLUTEN-FREE VERSION use gluten-free breadcrumbs

Recipe Methods:
1  Preheat the oven to 22°C (425°F/Gas 7). In a small food processor, whizz the breadcrumbs, herbs, lemon zest and seasoning, until the breadcrumbs are bright green.
2 Add the oil in a slow stream, with the food processor running, until it forms a thick, bright green paste.
3 Brush the fish fillets with a little oil on both sides and season them well. Press the herby crust onto the top (or skinless side) of the fillets, packing it down well. Place on a non-stick baking tray and bake in the top of the oven for 10 minutes, or until cooked through and turning crispy on top.

NUTRITIONAL INFORMATION (per recipe)
| | |
| --- | --- |
| Fat : 61.12 g | Fibre : 4.98 g |
| Iron : 5.69 mg | Sugar : 5.91 g |
| Calcium : 212.36 mg | Sodium : 1437.52 mg |
| Potassium : 278.19 mg | Calories: 861.22 kcal |
| Protein : 13.2 g | Vitamin A : 1567.55 IU |
| Vitamin C : 19.74 g | Carbohydrates : 61.16 g |
| Saturated Fat : 8.86 g | Cholesterol : 0 mg |