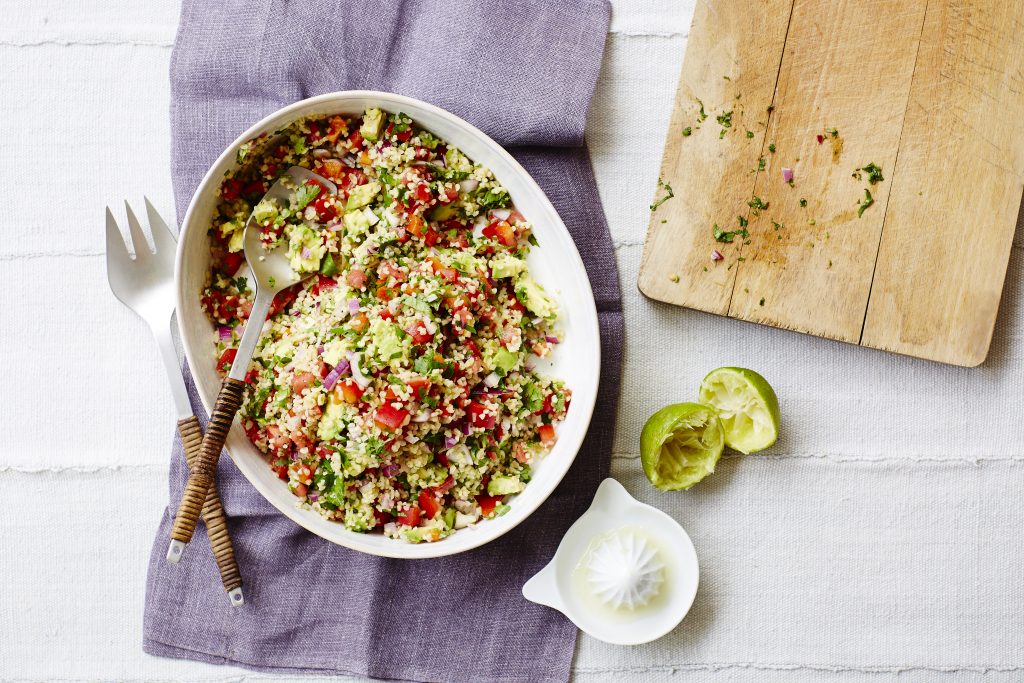 Tabbouleh is a traditional part of a mezze in the Middle East, but it also makes an excellent salad. The lime and avocado in this version give it a fresh dimension.
SERVES 4
PREP TIME 15 MINS
COOK TIME 0 MINS

Large Saucepan With Lid
2 Large Bowls
Mixing Spoon
Drainer

6 oz (175g) bulgur wheat
1 1/2 tsp rock salt
2 tomatoes, diced
1 avocado, peeled, pitted, and diced
1 small red pepper, deseeded and diced
2 oz (60g) red onion, diced
1 handful coriander leaves, roughly chopped
4.25 fl. oz. (125ml) lime juice
2 tbsp extra virgin olive oil
Salt and freshly ground black pepper

1.  Place 350ml (12fl oz) of water in a large saucepan and bring to the boil. Place the bulgur wheat and rock salt in a large bowl. Pour over the boiling water, cover, and leave to soak for about 30 minutes.
2.  Drain any excess water from the bulgur wheat and place it in a large bowl. Then add the tomatoes, avocado, red peppers, onions, and coriander. Mix well to combine. Transfer the mixture to a large serving bowl.
3.  Drizzle the lime juice and oil over the mixture. Toss well to coat. Season to taste with salt and black pepper, if needed. Mix well and chill the tabbouleh in the fridge for about 20 minutes before serving.

| | |
| --- | --- |
| Fat:  60.61 g | Fiber: 50.67 g |
| Iron: 6.77 mg | Sugar: 16.16 g |
| Calcium: 149.66 mg | Sodium: 4328.81 mg |
| Potassium: 2663.23 mg | Calories: 1273.09 kcal |
| Protein: 29.05 g | Vitamin A: 5008.78 IU |
| Vitamin C: 191.28 g | Carbohydrates: 125.57 g |
| Saturated Fat: 8.65 g | Cholesterol: 0 mg |