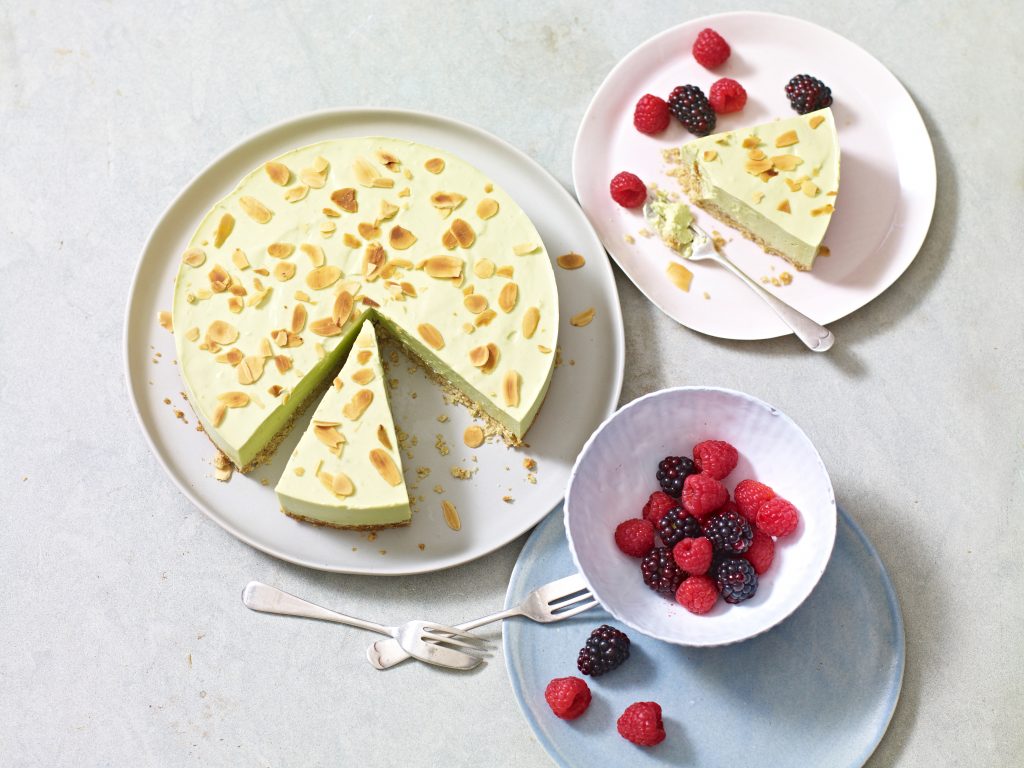 Like any cheesecake, this is high in fat, but the avocados contribute a significant amount of omega-3 fats, which help keep the heart healthy.
SERVES 6
PREP TIME 30 MINS
COOK TIME 20 MINS

Equipment:
18cm (7in) loose-bottomed cake tin
Saucepan
Mixing Bowl
Knife
Whisk

Recipe Ingredient:
2 ripe Hass avocados
9 oz (250g) ricotta cheese
3 tbsp icing sugar
5 limes, zest and juice
1 level tbsp gelatine or vegetarian equivalent
toasted flaked almonds, to decorate
3.5 oz (100g) unsalted butter
3.5 oz (100g) porridge oats
3.5 oz (100g) ground almonds
1.75 oz (50g) wholemeal flour
3 tbsp soft brown sugar

Recipe Method:
1. Melt the butter in a saucepan, add the oats, almonds, flour, and sugar, and mix well. Press the mixture into an 18cm (7in) loose-bottomed cake tin and bake at 190°C (375˚F/Gas 5) for 20 minutes. Allow to cool.
2. Slice the avocado in half. Remove the stone, then scoop out the flesh, and mash until the mixture is lump free. Add the ricotta cheese, sugar, lime zest and juice, and beat well.
3. Place 3 tablespoons of water in a small heatproof bowl, sprinkle over the gelatine, and leave to soak for 5 minutes. Place the bowl over a pan of simmering water and stir until the gelatine melts. Allow to cool slightly, then stir into the avocado mixture. Pour the mixture over the base and transfer to the fridge for 2 hours.
4. Carefully remove the cheesecake from the tin, decorate with flaked almonds and serve.

NUTRITIONAL INFORMATION (per recipe)
| | |
| --- | --- |
| Fat: 318.43 g | Fiber: 75.34 g |
| Iron: 20.08 mg | Sugar: 75.99 g |
| Calcium: 1403.91 mg | Sodium: 975.17 mg |
| Potassium: 4273.71 mg | Calories: 4209.94 kcal |
| Protein: 117.98 g | Vitamin A: 4283.17 IU |
| Vitamin C: 85.2 g | Carbohydrates: 201.58 g |
| Saturated Fat: 92.19 g | Cholesterol: 343.45 mg |