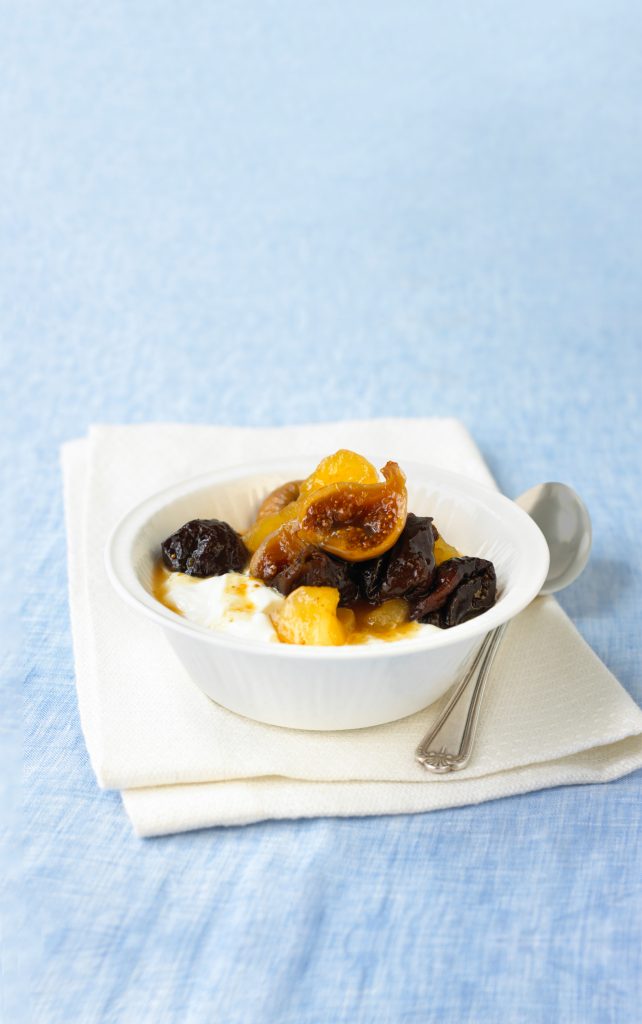 When the temperature is cooler, try this seasonal fruit salad for breakfast served hot. Dried fruits contain both soluble and insoluble fibre.
SERVES 4
PREP TIME 10 MINS
COOK TIME 15 MINS

Mixing Bowl
Mixing Spoon
Tea Towel or Cling Film
Saucepan

3.5 oz (100g) dried apples
3.5 oz (100g) dried figs
3.5 oz (100g) dried prunes
1 cinnamon stick
1/2 vanilla pod, halved lengthways
Finely grated zest and juice of 1 orange
1 tbsp demerara sugar
Greek yogurt or porridge, to serve

1.  Place all the dried fruits in a mixing bowl. Add the cinnamon, vanilla pod, and orange zest and juice. Pour in 200ml (7fl oz) of boiling water. Cover the bowl and set aside overnight.
2.  In the morning, transfer the contents of the bowl to a saucepan. Add the sugar and 150ml (5fl oz) of cold water and bring to the boil.
3.  Reduce the heat and simmer very gently, uncovered, for 15 minutes. Remove the vanilla pod and cinnamon stick. Serve with a dollop of Greek yogurt, or with porridge.

| | |
| --- | --- |
| Fat:  4.51 g | Fiber: 14.28 g |
| Iron: 2.42 mg | Sugar: 107.21 g |
| Calcium: 1006.46 mg | Sodium: 293.27 mg |
| Potassium: 2329.25 mg | Calories: 924.58 kcal |
| Protein: 85.24 g | Vitamin A: 1131.74 IU |
| Vitamin C: 37.27 g | Carbohydrates: 132.3 g |
| Saturated Fat: 1.14 g | Cholesterol: 40 mg |