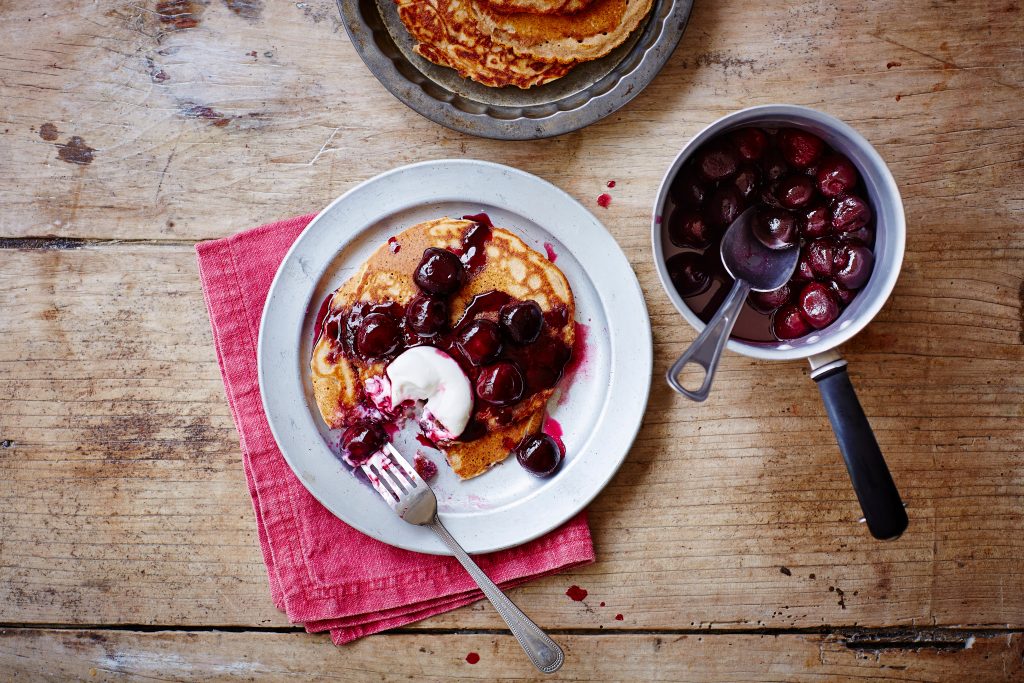 Buckwheat makes an incredible gluten-free flour and is even kinder on your digestion when soaked overnight. A good source of B vitamins, it is also rich in magnesium, copper, and easily digestible protein.
SERVES 8
PREP TIME 10 MINS
COOK TIME 30 MINS

2 Large Mixing Bowl
Whisk
Large Non-Stick Frying Pan

5.5 oz (150g) buckwheat flour
2.25 fl. oz. (65ml) plain yogurt
7 fl. oz. (200ml) milk
2 eggs
3/4 tsp baking soda
1/4 tsp baking powder
1/2 tsp vanilla extract
1/8 tsp salt
1–2 tbsp coconut oil, plus extra if needed
Greek yogurt, to serve
12 oz (350g) cherries, stoned
3 tbsp sugar
1 tsp almond extract
FOR A GLUTEN FREE VERSION use gluten-free baking powder

1.  For the batter, place the flour, yogurt, and milk in a large bowl. Mix to combine, cover with a kitchen towel, and leave at room temperature for 8 hours or up to 24 hours.
2.  Place the eggs, baking soda, baking powder, vanilla, and salt in a large bowl. Whisk lightly until well blended. Then gradually pour the egg mixture into the flour mixture and whisk until well combined.
3.  Heat a large non-stick frying pan over a medium–high heat and add the oil once the pan is hot. Pour tablespoons of the batter into the pan, leaving space between them for the pancakes to spread. Each pancake should spread to about 15cm (6in) in diameter.
4.  Cook the pancakes until small bubbles appear on the surface and the underside is firm. Then turn them over and cook for a further 1–2 minutes, or until cooked through. Transfer the cooked pancakes to a warm oven. Continue cooking until all the batter is used up, adding more oil to the pan as needed.
5.  For the sauce, place the cherries in a large, lidded saucepan and cover with 100ml (3 1/2 fl oz) water. Add the sugar and place the pan over a medium-high heat. Cover and simmer until the cherries have broken down. Then uncover and cook until the liquid becomes syrupy. Remove from the heat and stir in the almond extract. Serve the cherry almond sauce with the pancakes and Greek yogurt.

| | |
| --- | --- |
| Fat:  42.61 g | Fiber: 22.75 g |
| Iron: 11.33 mg | Sugar: 114.18 g |
| Calcium: 2770.36 mg | Sodium: 3140.31 mg |
| Potassium : 4419.92 mg | Calories: 2248.58 kcal |
| Protein: 206.21 g | Vitamin A: 1158.11 IU |
| Vitamin C: 24.14 g | Carbohydrates: 253.88 g |
| Saturated Fat: 22.82 g | Cholesterol: 436.71 mg |